DRV8825 Bipolar Stepper Motor Driver Carrier High Voltage Breakout Board Intelligent Chopping Control Simple Step and Direction Control Interface
The Polulu DRV8825 Bipolar Stepper Motor Driver Carrier High Current is a newer version that combines the sleep and fault lines with a resistor. So you can easily use the DRV8825 bipolar stepper motor driver in very specific situations - these are described in more detail on the product page (link below). Generally speaking, you should not notice any difference between the two versions.
The DRV8825 Stepper Motor Driver Carrier is a breakout board for TI's DRV8825 Microstepping Bipolar Stepper Motor Driver. The module has pin assignments and interfaces that are almost identical to those of the A4988 stepper motor driver carrier. Thus the DRV8825 stepper motor driver carrier can be used as a powerful drop-in replacement for many applications.
The DRV8824 stepper motor driver carrier is a carrier board or breakout board for TI's DRV8825 stepper motor driver. Please read the DRV8825-Datasheet before using this product.
The A4988 stepper motor driver carrier lets you control a bipolar stepper motor with up to an output current of 2.2 A per coil.
Main features:
Simple step and direction control interface
Six different step resolutions: Full Step, Half Step, 1/4 Step, 1/8 Step, 1/16 Step and 1/32 Step
Adjustable current control lets you set the maximum output current with a potentiometer, allowing you to use a voltage above the recommended voltage to achieve higher step rates
Intelligent chopping control that automatically selects the correct current decay mode (fast decay or slow decay)
Maximum supply voltage: 45 V
Integrated controllers (no external logic power supply required)
Can connect directly to 3.3V and 5V systems
Thermal shutdown in case of overheating, lockout in case of undervoltage and protection of the transition current level Protection against short circuit to earth and switched off load
4-layer, 2oz copper PCB for improved heat dissipation
Exposed lötbares Boden-Pad under the Driver IC on the bottom of the PCB
module size, pin assignment and interfaces match those of the A4988 stepper motor driver carrier in most cases
The DRV8825 is supplied and installed with surface mount components including the DRV8825 Driver IC, as shown in the product image.
Further information can be found on the product page of the manufacturer Polulu.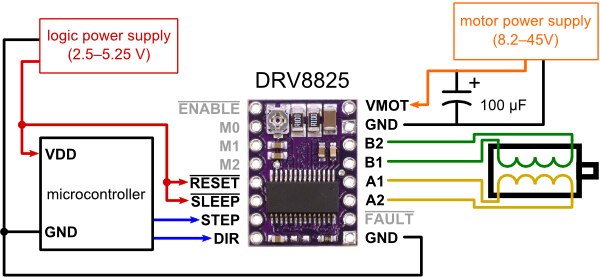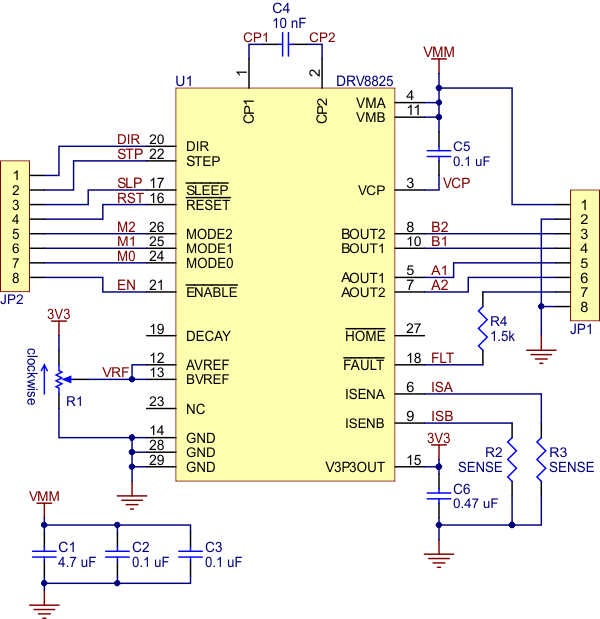 ---
---