Mini Maestro 12-channel USB servo controller three control methods TTL USB script language, 12 channels
The Polulu Mini Maestro 12-channel USB Servo Controller allows you to control servos via any of the USB, Serial, TTL or integrated scripting interfaces. Whether you want the best servo controller available or a general purpose I/O controller, the small and versatile Mini Maestro USB servo controller will meet your needs.
The Mini Maestro is the latest of Polulu's second generation USB servo controllers. The USB servo controller supports three control methods: USB for direct connection to a computer, TTL for use with embedded systems and an internal scripting language for self-contained, host controller-free applications. The Mini Maestro is a very versatile dual-channel servo controller and general I/O board with a very compact size. The extremely precise and high resolution servo pulse has vibrations of less than 200 ns. Therefore, the servo controller is very well suited for high-precision animatronics. The integrated speed and acceleration control allows smooth and smooth movements without the need for a control source to calculate and adjust the current position.
This fully assembled version of the Mini Maestro comes with 0.1'' connector poles angled as shown in the picture.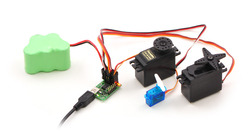 Features:
Three control methods: USB, TTL (5V) serial and internal script language
0.25µs Pulse output resolution (corresponds to approximately 0.025° for a typical servo, which is above the range a servo can resolve)
Pulse rate configurable from 1 to 333 Hz
Wide pulse range from 64 to 4,080 µs
>Individual speed and acceleration control for all channels
Channels can also be used for general use as digital outputs or analog inputs
PWM output has frequency from 2.93 kHz to 12 MHz
The simple scripting language can be programmed so that the controller can perform complex actions even after the USB and serial ports have been removed.
Free configuration and control application for Windows simplify it

to configure and test your controller
create, execute and save sequences of servo movements for animatronics and walking robots
to write, run and execute scripts stored in the servo controller

The virtual COM port allows you to create custom applications and send serial commands to the servo controller via USB.
TTL serial features:

supports 300 to 250,000 kbps in fixed baud mode
supports 300 to 115,200 kbps in autodetect baud mode
Supports both the Polulu protocol and the simpler Scott Edwards MiniSSC II protocol at the same time - the Polulu protocol provides access to advanced functionality; there is no need to configure your device for a special protocol mode
Can be concatenated with other Polulu servos using a single serial communication line

Board is powered by USB or a 5 to 16V battery - so 5V are possible for you as a user
Compact dimensions and low weight
upgradable firmware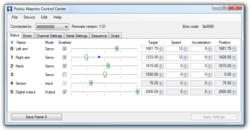 Application examples
Serial servo controllers for multi-servo projects (such as robot arms) based on BASIC Stamp or Arduino platforms
PC-based servo control üvia USB port
PC interface for sensors and other electrical devices

reading a gyro or accelerometer from a computer for a novel user interface
Checking a string of ShiftBrites from a computer for an atmospheric lighting

General I/O extension for microcontroller projects
Programmable, self-contained Halloween or Christmas display controller that responds to sensors
Intrinsic Servo Tester
Shipping weight:
0,05 Kg
Product weight:

0,02

Kg