Pololu Baby Orangutan B-328 compact robot controller ATmega328P AVR microcontroller 32KB memory 2 bidirectional motor ports
The Polulu Baby Orangutan B-328 Robot Controller is a very compact but complete robot controller that packs a powerful AVR microcontroller and two motor drive channels into the same 24-pin form factor as competing units. You can connect your battery, sensors and motors directly to this small module to create a miniature robot. Or you can use the Baby Orangutan B-328 robot controller as an auxiliary controller in a larger robot.
The Orangutan B-328 robot controller includes Atmel's new ATmega328P microcontroller with 32 KB program memory and 2 KB RAM.
The Baby Orangutan is a complete control solution for small robots - everything is packaged in a small 1.2x0.7'' 24-pole DIN package. The compact design eliminates extensive components such as LCD and switches, while retaining the most essential features of the Orangutan robot controller cables: a programmable ATmega328P AVR microcontroller and a dual H-bridge for direct control of two DC motors. This integrated motor driver sets the Baby Orangutan B apart from microcontroller boards of similar size from other manufacturers. Two on-board indicator LEDs, a trimmer potentiometer, a 20 MHz resonator and reverse polarity protection complete the basic features of the Baby Orangutan B-328 Robot Controller.
The removal of larger orangutane components also allows a significantly improved manufacturing process, allowing Polulu to offer Baby Orangutan B at a very affordable price. Because Baby Orangutan is based on Atmel's powerful AVR microcontroller, Baby Orangutan delivers significantly higher performance than other similar controller boards. The availability of free development software - such as Atmels AVR-Studio IDE and the WinAVR GCC C/C++ compiler - and cheap programmers - such as the Polulu USB AVR programmer - make the Baby Orangutan B a truly outstanding product.
Features:
outside: 1.2x0.7''
Input voltage: 5 to 13.5 V (absolute maximum at 15 V)
Two bi-directional motor ports can provide approximately 1A continuous current (peak at 3A) per channel
Programmable 20 MHz Atmel ATmega328P AVR Microcontroller (32 KB Flash, 2 KB RAM, 1 KB EEPROM)
>18 user I/O lines - 16 can be used for digital I/O lines and 8 can be used as analog input channels
1 User LED
user potentiometer connected to ADC7
20 MHz external resonator
Pin assignment is compatible with Orangutan SV-328, Orangutan LV-168 and 3pi robot. So the same code will generally work on all these devices.
Comprehensive English language User manual
Components included:
The compact module can be used as DIP components on breadboards or prototyping boards. However, you can also use the pinless version as space limited installations in miniature robots. The 0.1'' pin header is included with the Baby Orangutan B, but not yet mounted. Power-Pole, one of the motor outputs and several I/O lines are all accessible from one side to enable the Baby Orangutan to be used as a Single In-Line Pole (SIP) package for applications that do not require all I/O lines. The small size and low price of Baby Orangutan make it a perfect option for primary control of small robots or for auxiliary control for larger robots.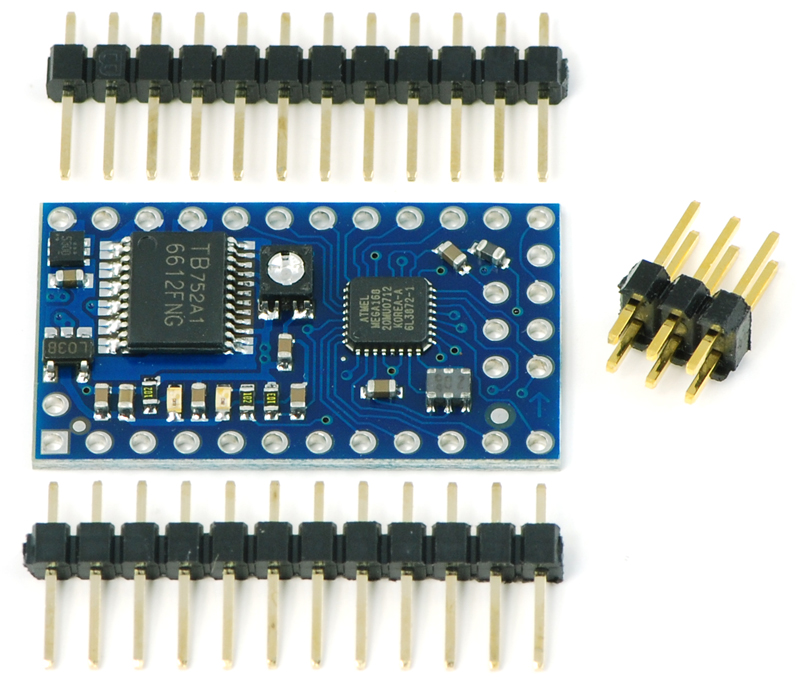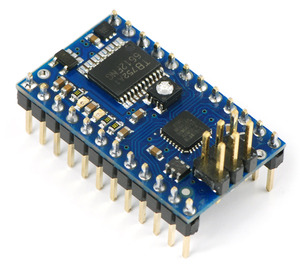 ---