Pololu Orangutan SV-328 Robot controller controller for small robots (6V to 13.5V) 2 bi-directional Moror ports programmable ATmega328P AVR microcontroller
The Polulu Orangutan SV-328 Robot Controller is a complete control solution for small robots running in a voltage range from 6 to 13.5V. The small module measures 2.15x1.9'' and includes a powerful Atmel ATmega328P AVR microcontroller, two bidirectional motor ports each with the capability to provide a continuous current of 1A, a removable 8 character and 2 line LCD, a buzzer, three user push button switches and two user LEDs.
Eight general purpose I/O lines with up to eight analog input channels allow the addition of sensors or expansion of the system. The cables are connected to 0.1'' sockets. The Orangutan SV-328 features a 5V switching regulator with the ability to deliver 3A current, allowing the Orangutan to operate RC servos directly from the regulated 5V power bus. This Powerbus accesses through the power and ground poles that go to each user I/O line.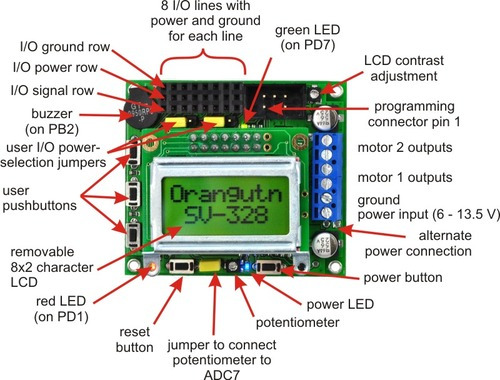 The Orangutan SV-328 is based on the Atmels mega328 AVR microcontroller, which operates at 20 MHz and features 32 KB flash memory, 2 KB SRAM and 1,024 bytes EEPROM. Since you have direct access to the microcontroller, any development software for Atmel's AVR microcontroller - including Atmel's AVR-Studio IDE and WinAVR GCC C/C++ Compiler - compatible with the Orangutan SV-328. An In-Circuit-Programmer like the Polulu USB AVR Programmer is nötig to program the Orangutan SV-328.
Improvements over the original orangutan:
TB6612FNG Motor Driver delivers higher power with high frequency PWM and reduces power consumption
Hardware PWM outputs now connect all motor driver inputs, eliminate the use of processor-intensive PWM software
Input voltage can now reach up to 13.5 V
The integrated 5V regulator can supply a current of up to 3A, allowing this version to operate servos and other high performance devices for which the battery voltage would be too high.
The MCU has been upgraded to an ATmega328 that operates at 20 MHz. The pole assignment was changed to match those of the Baby Orangutan B and the 3pi robot. The code should run on all mentioned devices.
polarity reversal protection was achieved by using a MOSFET instead of a diode. Thus, the input voltage does not experience a diode voltage drop any longer.
The main power switch now turns off the power of the entire board.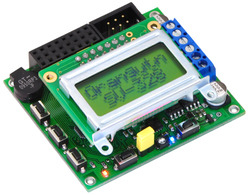 Specifications and on-board hardware
outside: 2,15x1,9''
Input voltage: 6 to 13.5 V
Two bi-directional motor ports (continuous 1 A per channel, maximum 3 A per channel)
Programmable 20 MHz Atmel ATmega328P AVR Microcontroller (32 KB Flash, 2 KB RAM, 1 KB EEPROM)
8 generally usable I/O lines - 6 can be used as analog input channels
removable 8 characters and 2-line LCD
5 V controller, capable of powering up to 3 A
Buzzer connected to one of the mega328s hardware PWM
3 User pushbutton switch
2 user LEDs
battery voltage with self-monitoring optionally connected to ADC6
User potentiometer connected to ADC7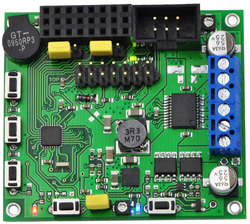 ---
---