Pololu analog motor controller 5.5V-30V, 15A for rugged DC motors, 4 interfaces, simple bidirectional control
The Polulu USB/RC/TTL/serial/analog Motor Controller 5.5-30V 15A is a versatile and general purpose motor controller for ruggedized DC motors. The motor controller has a voltage range of 5.5-30 V and a continuous load of 15 A without heat sink.
Please note that this version is the partially assembled kit. You will need to remove the pin header and some other parts, which will allow you to customize the installation.
This Polulu motor controller is suitable for many motor controller applications because it has a range of 5.5-30V and the ability to deliver up to several hundred watts in a small form factor. The motor controller features a variety of supported interfaces: USB for direct connection to a computer, TTL serial for use with embedded systems, RC Hobby servo pulses for use as RC controlled electronic speed control (ESC) and analog voltage for use with a potentiometer or analog joystick. With this variety of supported interfaces and a number of configurable settings, this motor controller makes it easy to add basic controls of rugged DC motors to various projects. Although the motor controller has many more features than competing products, a free configuration utility (for Windows 7, Vista, Windows XP and Linux) simplifies the initial setup of the device and allows in-system testing and monitoring of the controller via USB.
Main features
Simple bidirectional control of a Brushed DC Motor
Operating voltage range: 5.5 to 30 V
Maximum continuous current without heat trap: 15 A
Vier communication or control options

USB interface for direct connection with PC
TTL serial interface for direct connection with microcontroller or other embedded controller
Radio control interface for direct connection with RC receiver or RC servo controller
0 to 3.3 V analog voltage interface for direct connection to potentiometer and analog joysticks

Simple configuration and calibration via USB with free configuration program (compatible with Windows 7, Vista, Windows XP and Linux)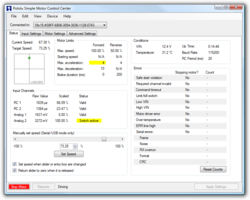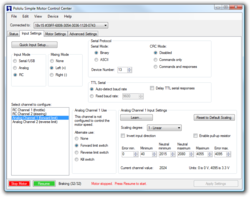 Please note that you will need a USB A to Mini-B cable to connect the motor controller to a PC.
Other Features:
Adjustable maximum acceleration and deceleration to limit electrical and mechanical load on the system
Settable initial speed, maximum speed and amount of braking when speed is zero
Optional safety control to avoid unexpected power supply
Input calibration (learning) and adjustable scaling level for analog and RC signals
Undervoltage cut-off with hysteresis for use with batteries which are susceptible to deep discharge (e.g. LiPo cells)
Settable temperature threshold and resonance
>Adjustable PWM frequency from 1 kHz to 22 kHz
Error LED connected to a digital ERR output; if error output from multiple controllers is connected, all connected controllers will fail if one detects an error
Functional expandable firmware
USB and serial features:
Controllable from a computer with a native USB, serial commands are sent to the virtual serial (COM) port or via TTL serial through the RX/TX poles of the device
Example code in C#, Visual Basic .NET and Visual C++ is available in the Pololu USB Software Development Kit
Optional CRC error detection to eliminate communication errors caused by Lärm or software errors
Optional Command-Time-Outs (switch off motors when communication stops)
supports automatic baud rate detection from 1,200 bps to 500 kbps, or can be configured with fixed baud rate
supports standard Compact and Polulu protocols as well as the Scott EdwardsMini SSC protocol and an ASCII protocol for easy serial control from a terminal program
---
---